Accommodation in Fazana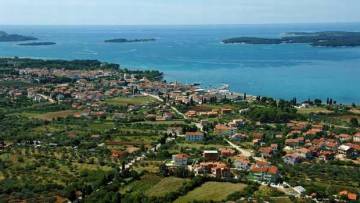 FAZANA is a small town, port and fishermen's centre in the south-western part of the western Istria coast in the Fazana Strait, 8 km northwest of Pula. It is located on a low part of the coast, well protected from the sea by Brijuni Islands. Gentle hills in the interior are under orchards, vineyards and olive-groves; the landscape is dominated by pine forests. Chief occupations include fishing, fish-processing and building of smaller fishing boats.
Many different flags have sailed in the Fazana canal throughout the centuries, the Romans, Byzantines, Venetians, and Austro-Hungarians met and fought in the area leaving many traces behind. Picturesque squares, old close-built houses, narrow stone paved streets as well as three churches are only a part of Fazana's cultural heritage.
The town port and squares are now days a beautiful stage, hosting numerous cultural and music events during the summer. Fazana has always been well known for its excellent wine and olive oil.
Fish and meat, gastronomic deliciousness, and quality wine offered by local restaurants can surely meet the requirements of any gourmand.
Beautiful beaches, clear sea, Mediterranean climate and lush vegetation have contributed to the development of tourism in Fazana, whose inhabitants have always been known for their hospitality.