Accommodation in Medulin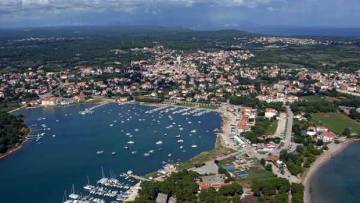 MEDULIN is one of the representatives of the Istrian tourism and one of the twenty best-known seaside resorts on the Adriatic. A most dynamic development of Medulin is based on the environmental assets and gentle scenery. Every visitor to Medulin can find here a real oasis of quiet and silence, beautiful scenery typical of Mediterranean climate, but, at the same time, everyone can spend a very active and fulfilling holiday.
The bay of Medulin is ideal for all kinds of water sports, but you may find a wide range of activities and sports offered on land too. Mild winters, thanks to the Mediterranean climate, and rich sports infrastructure make Medulin one of the most popular centres for sports preparations throughout the year so that here you may often come across some of the best-known sports representatives of Croatia and the entire world.
The very first spark of tourism was ignited on the beaches of the bay of Medulin towards the end of 19th century. By that time Medulin had already taken its place in the entertainment market with visits to the city of Pula, but, before long the situation changed and more and more attention was turned to Medulin itself.
First tourists came to Medulin after the establishing of the Company for the improvement of the appearance of Medulin, which was in fact the forerunner of the first local tourist organization. Since then, tourism has been taking big steps forward.