Accommodation in Porec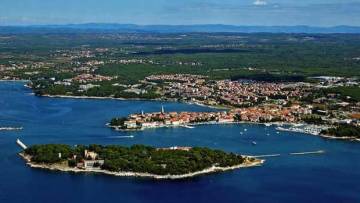 POREC is, together with Umag, one of the most beautiful Istrian tourist destinations. Many tourists have been coming here for as many as 10, or even 20 years to spend their holiday on the Istrian coast, in the beautiful area between the mouth of the river Mirna and the Limski Kanal Fjord. Here they have their birthday and family parties organized at their favourite resorts and hotels, and they know the staff by name. Why are tourists attracted to the Istrian coast, in particular its western part, and why do they reluctantly change their holiday destination both in summer and in winter?
The 50 km long coastline area, from the mouth of the river Mirna to the deep Limski Kanal Fjord, has a lot to offer so that, for the curious and enthusiastic ones, there is always an opportunity to explore something new and to enjoy the multiplicity of choice.
Thanks to the extraordinary beauty of the environment and cultural monuments, not to forget the fifty years of investment in tourism, it was possible to create the elite area of the Croatian tourism.
Porec was founded by the Romans. The original plan of the city, as designed by an ancient Roman surveyor, has been preserved to this very day. You may see the Forum and the cobble-stoned streets of Decumanus and Cardo Maximus. In the western part of Porec there is a kind of acropolis with the remains of antique temples of Martus and Neptune dating from the 1st century. For some time Porec was a city-colony, a seat of military and government administration called the Colony of Iulia Parentium.
Porec has its own autochthonous saint - St. Maurus. The most important building in Porec, which is also the worldwide cultural heritage monument included in the list of the world's heritage, is the Basilica Euphrasiana, built as early as 553. Luxurious mosaics, brilliance and power of Byzantium.