Accommodation in Savudrija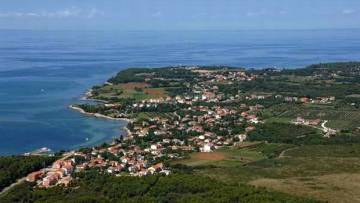 SAVUDRIJA is situated in the west of Istria. This old fishing town, together with its surroundings, is a kind of a gateway to the Umag riviera. On the outskirts of the Piran Bay which gives the beautiful view of the snow-covered Alps, part of the coast, and the endless azure of the Adriatic Sea, there are the small towns of Kanegra, Crveni Vrh, Basanija, Monteneto, and Zambratija.
Waves of the crystal-clear sea splash against the easily accessible pebble shore. Here, guests are provided with all kinds of leisure and sporting activities both on land and in the water. And last, but not least, there are numerous popular fish restaurants and other kinds of restaurants and taverns.
The neighbouring area too is very rich in historical and cultural monuments and works of art. For example, the Savudrija lighthouse, built in 1826, is one of the oldest in Istria. In the town itself there are still remains of a Roman port, and on a small island facing the town of Zambratija there are remains of the Roman settlement of Sipar.
From some written records it follows that it was the battle of Savudrija, in which the Venetians sent to the bottom the Barbarossa fleet, that inspired Tintoretto for his sea battle.